ABOUT  US
SHOP INFORMATION

〒192-0072 1-1 Minami-cho, Hachioji-city Tokyo, JAPAN  /   It takes 8-10minutes from Hachioji Station on foot.
Tel: 042-622-1976   (from 9:00 am to 7:00 pm)
Please speak in Japanese. Broken Japanese is also welcome!!.


E-mail:  >> CONTACT US
Please write in English.I will reply in English.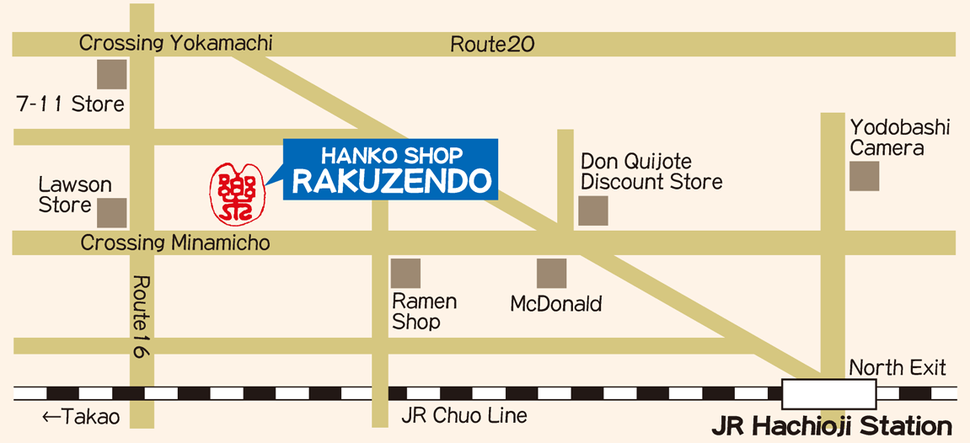 Welcome to  RAKUZENDO.
Established in 1899, over 118 years in business RAKUZENDO is from the 19 century.
I am Toh Hirasawa a Traditional Japanese name stamp craftsman.
I have been creating the Japanese hand carved name seals for over 36 years. My trade has been passed down to me from three generations, and now I am the forth generation to continue this art and craft which is an essential part of my culture and also Japanese Business.  I have, to this day, made over 30,000 individual and unique name stamps as my business continues to grow.
 My continued skills and craftsmanship, along with my awards and qualifications, are clearly recognized by the Minister of labor in the early years, and now by the Minister of Health, Labor and Welfare of Japan.
Throughout my professional working years I have made name stamps for Japanese individuals and a number of company and business related stamps.
Recently I am creating not only Japanese name stamps but also for a number of Chinese and Korean individuals along with English.


 I am able to make name stamps in all languages, and all designs that are given to me by my customers.
 I am honored to create your original name stamp by hand.


The strength and power of having your original name stamp carved by hand is far greater than having a machine, or computer make it, as this is a very personal and special signature, stamp, and mark that represents you.
At this time I am able to open my doors and take orders through the means of modern technology – In the past all of my customers have had to travel a far to come to my shop. I am excited to now take your valued orders through this website and give you the exact same priority that I offer all of my clients and customers for"RAKUZENDO"
My name stamp and Japanese hand curving store is named RAKUZENDO – My Great Grandfather made this name.
Rakuzendo means – "to do good to others" or "to do something good for others".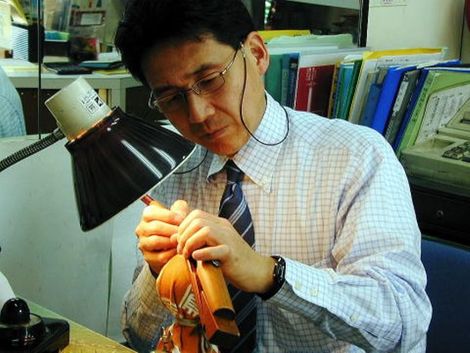 This is Toh Hirasawa, he is a traditional Japanese Name Stamp artisan.
Learning this craft and art from his family, he is the forth generation name stamp carving artisan of his family.
Here we can see Mr. Hirasawa carving a traditional name stamp in his shop purely by hand.
He is a First-Class name stamp and seal carving specialists, a highly ranked professional of Japan.
His skills have been recognized and awarded by the Japan Minister of Health, Labor & Welfare.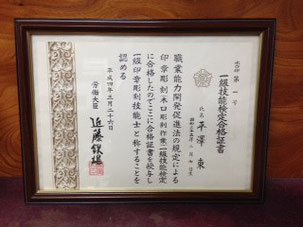 Primary skills test pass certificate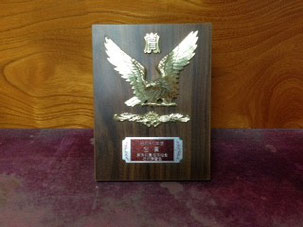 Shield of seal union competitions Gold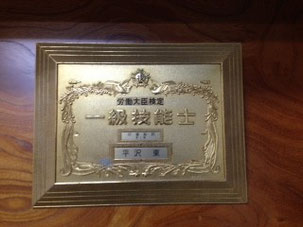 Proof plate primary professional skills that have been awarded from the Minister of  Labour